In researching what goes into a successful—and incredibly simple—butterscotch sauce, I discovered countless discussions across the interwebs about butterscotch versus caramel. To summarize: A butterscotch sauce is made with brown sugar, while a traditional caramel sauce is made with white sugar.
I've caramelized sugar a million times and a thousand different ways—white sugar, brown sugar, butter, no butter, bourbon, whiskey, cream, vanilla. This recipe is hands-down the winner when it comes to a fast (10 minutes!) and easy sauce for ice cream sundaes. I tested the recipe with light and dark brown sugar, and the dark variety inevitably won out for its deeper molasses flavor and intense amber color. I also opted for large-flake sea salt to balance out the sweetness. And the texture? Silky smooth, and totally eat-it-with-a-spoon-worthy.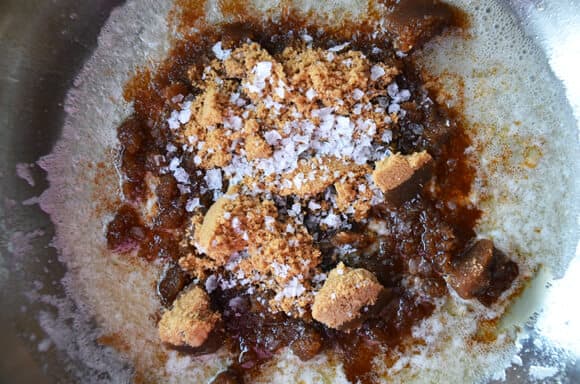 PIN IT
Easy Homemade Butterscotch Sauce



4 tablespoons – (1/2stick)unsalted butter

1/2cup- packed brown sugar(dark)
1 teaspoon – large-flake salt
1/2cup – heavy cream
1tablespoon- vanilla extract

DIRECTIONS

Melt the butter in a medium heavy-bottomed saucepan (not non-stick) over medium heat.

Add the brown sugar, salt and heavy cream and stir the mixture with a rubber spatula until it's well blended. Bring the mixture to a boil, scraping down the sides occasionally, and boil it for 4 to 5 minutes.

Remove the mixture from the heat and stir in the vanilla extract. Transfer the butterscotch sauce to a container to cool.

Notes: The butterscotch thickens significantly as it cools, so it's important to not over-boil it or you'll end up with chewy butterscotch caramels rather than a pourable sauce.

If you want to add a kick to your butterscotch sauce, stir in 1 to 2 tablespoons of your choice liquor (think bourbon, whiskey or cognac) at the same time you stir in the vanilla extract.